---
To register for an event, click on a flyer or visit our Team Sideline website
---
Operation Ennis Fitness
Free To Join! Beginning Nov 10th thru Dec 15th we will meet every Tue & Thu 6:00 pm @ Bluebonnet Park
4 Week program with workouts geared towards passing a military fitness test (Push-ups, Sit-ups, & 2-Mile run)
Whether you're a beginner, just trying to get back in shape, or a fitness junkie...come out and join us!
---
4v4 Men's Soccer Winter Classic
December 5th, 2020 at Veterans Park
Registration fee is $150 per team. All registered players receive a tournament t-shirt
Team Group Stage + Knockout Rounds. Trophy for 1st & 2nd Place
Rosters must have at least 4 players but no more than 7
Players must be 16 years old. One adult (18+) must be on each team
---
KidzFITT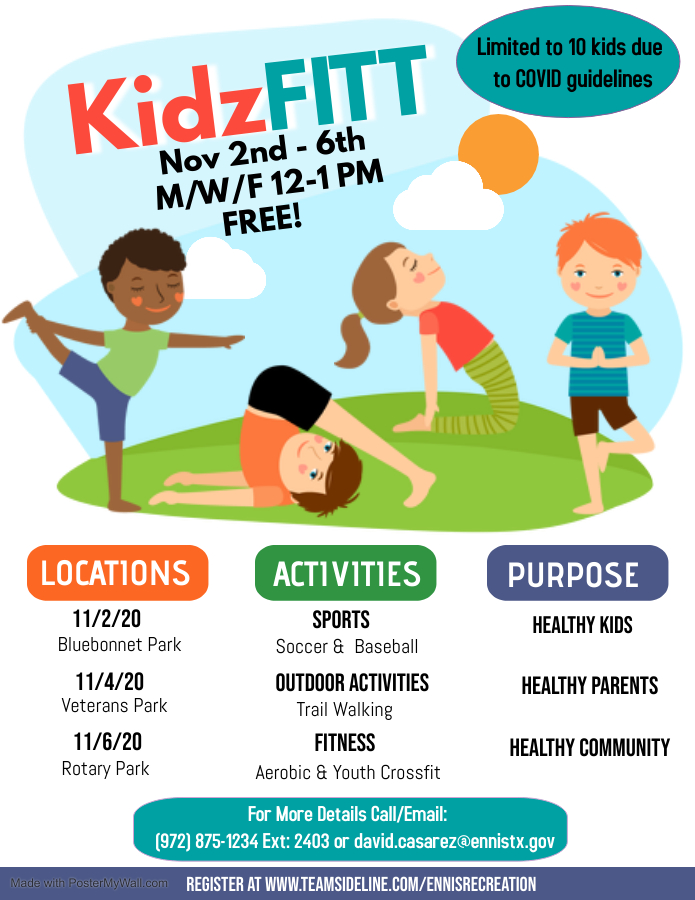 - KidzFITT Club is designed for the K-6th grade group who are distant learning or participating in a similar home school program. The intent is to provide children a fitness alternative they would normally receive during the school year.
- Registration is free but limited to 10 children due to COVID guidelines.
- There will be 3 exercise sessions (M,W,F) from 12:00-1:00 pm at Bluebonnet Park, Veterans Park, & Rotary Park.
- Activities will include stretching, warm-up, trail walking, aerobic activity, sports, and light cross-fit movements.

- We will utilize the FITT model (Frequency, Intensity, Time, and Type) as a general guideline for our fitness plan.
---
SILVER STEPPERS WALKING CLUB
Are you 50 years young? Like to get out and walk? Email david.casarez@ennistx.gov if you are interested in joining!
Registration is fee. Club t-shirts are available to order for $10.
The club has moved to monthly "virtual" walks from November thru February due to the weather and Daylight Savings.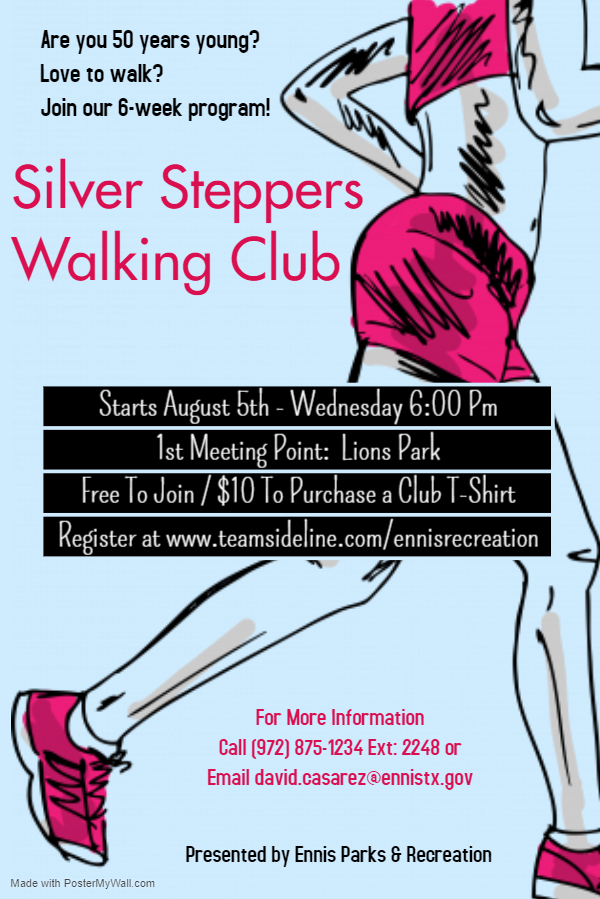 ---
Virtual Madden NFL 20 PS4 Tournament Results
Congratulations to Ivan Garcia and Reece Rendon for making it to the championship game! Ivan's SF 49'ers took down Reece's Kansas City Chiefs for the title.