Temporary Food Establishments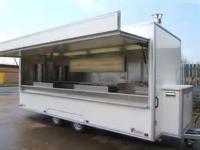 Temporary Food Establishment means any booth or trailer which operates at a fixed location for a period of time not to exceed five (5) consecutive days in conjunction with a single event or celebration. The temporary food service establishment must operate in conjunction with the event and may not be the event. The permit fee for a temporary food vendor is $50.00 per booth.
A Temporary Food Establishment operated solely by a nonprofit organization are exempt from the permit fee, but is required to apply and receive a permit from the Department. The Department may require any information necessary to determine whether an organization is nonprofit for purposes of the exemption.
Operators of a temporary food establishment are required to be in compliance with City Code Chapter 10 and the Texas Food Establishment Rules (25 TAC 229.161 – 229.171)
To report a possible food-borne illness or unsanitary condition at a restaurant or other food service establishment, or for other concerns or question contact the Health Department between 8:00 a.m. and 5:00 p.m. Monday through Friday at 972.875.6442 or you may visit us at 105 S. Preston Street, Ennis, Texas 75119. You may also report concerns or question by clicking here.
Temporary Food Establishment Guidelines
For Temporary Food Establishment Checklist
Sample Temporary Food Booth Layout
Sample Utensil/ Hand Wash Set Up
Temporary Food Establishment Presentation
Temporary Food Establishments at the Ennis Farmers Market are allowed to operate each Saturday from 8a.m. to 1p.m. from the first Saturday in April to the last Saturday in October.
For Farmers Market Applications, and Forms, please click here.