General Information
Hours
Monday - Friday
8:00am - 5:00pm
Property Maintenance Violations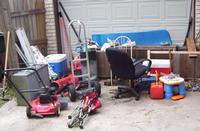 Ordinance 12-02-02 of the City of Ennis Property Maintenance Code states that all exterior property and premises must be maintained in a clean, safe and sanitary condition.
Violations include items visible from a public street or an adjacent property, or under a carport or covered patio or other projecting overhang, i.e.
Trash, debris, rubbish, refuse, brush, litter, wood piles, unused building materials, uninstalled fence and or fence materials, fallen or dead trees or large parts of trees such as the trunk, limbs, logs or vegetation, furniture, appliance and other items left outside that are not intended for outdoor use including broken or damaged lawn furniture, lawn and garden accessories, sculpture and outdoor structures, unused brick or stone, parts associated with trucks, cars motorcycles, boats, inoperable farm equipment, construction equipment, body parts, tires, wheels, batteries, upholstered items, engines, drive train components; plows, disks, rakes and other such items, lawn equipment in whole or in part where such is kept outside and unprotected from the elements, clothing, papers, broken glass, pipe, scrap materials, barrels, portable containers intended for chemicals, including gas tanks or cylinders
Storage containers of any type, with the exception of a minimal number of waste containers may not be left outside for a period longer than 48 hours.
If a citizen fails to comply with city ordinance, a municipal court citation may be issued for the violation(s) or
If a citizen fails to comply with city ordinance an abatement of the violation(s) may occur by the City at the property owners' expense. If the property owner fails to reimburse the city a privileged lien is filed against the property.
To report violations, for specific information about each of these code violations, or information on how to acquire an information brochure, M-F 8a.m. - 5p.m. please call (972) 875-1234 or by at Email.