General Information
Hours
Monday - Friday
8:00am - 5:00pm
Unenclosed Pool or Spa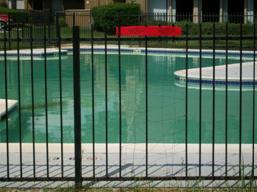 Section AG 105 "Barrier Requirements" of the 2009 International Residential Codes (City of Ennis Ordinance) States:
Property owners are required to have a barrier that consist of a fence and/ or wall that completely surrounds a swimming pool that obstructs access to the swimming pool.
The top of the barrier must be at least 48 inches (4 feet) above grade measured on the side of the barrier which faces away from the swimming pool
Openings on the barrier are not allowed to exceed 4 inches
Doors or gates must be equipped with self-closing and self-latching devices
To report violations, for specific information about each of these code violations, or information on how to acquire an information brochure, M-F 8a.m. - 5p.m. please call(972) 875-1234 or by at Email.