Food Inspections Program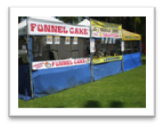 The City of Ennis Department of Health Services Food Safety Program is responsible for the permitting and inspection of all permanent, mobile and temporary food service establishments located within the City of Ennis by monitoring for compliance with local and state food safety regulations in all of those retail type food service facilities. All retail food operations- restaurants, public school cafeterias, licensed child care facilities, hotels, bars, grocery/ convenience stores, farmers markets, foster care facilities, summer child nutrition feeding sites, assisted living facilities, mobile food units, licensed health care facilities, and temporary food events, i.e. Bluebonnet Festival, Polka Festival, Texas Motorplex - NHRA Fall Nationals, Farmers Market, among others large and small scale events - by law must obtain a Permit to Operate from the Department and be inspected.
NEW FOOD SAFETY TRAINING REQUIREMENTS
As of October 2015 State Law Requires all Food Services Establishment to Employ a Registered Food Manager in each Food Service Establishment and that All Food Service Establishment Employees received State Approved Food Handler Training...
NEW! City of Ennis Local (State Approved) Food Handlers Training Course:
2018 City of Ennis Food Handlers Class Training Schedule
ALSO NEW! The City of Ennis now offers a (State Approved) Online
Registered Food Manager Training Course at:
City of Ennis Online Food Manager Training Course
Principal Activities and Services
Permit food servicces operations that provide food for public consumption
Review construction plans to ensure that permitted food facilities comply with health codes
Inspect and monitor all food operations for compliance with health and safety regulations
Respond to food related emergencies, including natural disasters or man made events that may affect food and impact human health. These may include tornadoes, floods, power outages, fires, overturned food transport vehicles or other events that may result in the loss of food from contamination or spoilage.
These compliance standards are related primarily to:
Food Protection and Food Temperatures
Employee Hygiene
Water and Sewage Services
Toilet and Hand Washing Facilities
Waste Disposal
Pest Control
Cleaning and Sanitizing of Food Equipment and Utensils
Maintenance of Floors. Walls, and Ceilings
Sufficient Lighting and Ventilation
Proper storage, usage, and Display of Toxic Materials
Take enforcement actions, including suspension of permits, when needed, to protect health and safety
Permit and inspect temporary food events (i.e. festivals, street fairs, concerts, etc.) and farmers' markets
Investigate foodborne-illness complaints and other food service related complaints
Educate food facility operators on safe food handling practices
Provide food safety training courses
The Department of Health Services provides guidance, permits, conducts inspections at all facilities that sell or provide food and/or drinks to the public within the City.
Things to Concider in Building a 'Bick and Mortar Food Establishment...
A person may not operate any type of food establishment in the City of Ennis without a permit issued by the Department of Health Services. Any person desiring to operate a food establishment must make a written application for a permit to the Department and pay the require permit fee. Whenever a food establishment is constructed or extensively remodeled and whenever an existing structure is converted to use as a food establishment, properly prepared plans and specifications for construction, remodeling or conversion must be submitted to the Department for review before work is begun.
Plans Review Process Flow Chart
Extensive remodeling means that twenty (20) percent or greater of the area of the food establishment is to be remodeled.
The plans and specifications must indicate the proposed layout, equipment arrangement, mechanical plans and construction of materials of work areas, and the type and model of proposed fixed equipment and facilities. The plans and specifications will be approved by the Department if they meet the requirements of State and City Code requirements. The approved plans and specifications must be followed in construction, remodeling or conversion. Failure to follow the approved plans and specifications will result in a permit denial, suspension, or revocation. Upon completion of the review of the plans by the Department a final pre-opening food establishment inspection is conducted to approve the construction and/or installation of equipment and to evaluate the food establishments capacity to safely receive, store, prepare and service food to the public. If the food establishment meets all of State and City Code requirements a permit is issued to lawfully operate the food establishment. The permit must be posted in or on every food establishment regulated by the Department. Additional inspection of food establishments are performed at least once every six months are as often as necessary for the enforcement of State and City Code relating to food safety. The permit remains valid for a period of one year unless suspend or revolted by the Department. The holder of the permit is required to make a written application and pay the require permit fee to the Department annually. The permit fee for a fixed (brick and mortor) food establishment ranges from $150.00 to $500.00 please see Food Permit Fee Schedule for additional details.
PLAN REVIEW
All new or remodeled food establishments are required to submit plans to be reviewed for compliance with health code regulations. As a part of this process, construction or structural design inspections are performed. All facilities must go through this process before a health permit to operate can be issued. In addition to the health permit, a certificate of occupancy may also be required by the Inspections Department.
For a copy of our Food Establishment Construction Guidelines, please click here .
For Applications and Forms, please click here .
General Construction Requirements and Commonly Overlooked Items
Upon completion of a food establishment inspection, the Department will issue a food establishment rating system certificate which must be posted where it is visible to the general public.
The goal of the Food Inspection Program is to ensure safe food service in the City of Ennis by:
ROUTINE RANDOM INSPECTION: This is a comprehensive, unannounced inspection during which the Department's Staff will evaluate foodborne illness risk factors, i.e. food temperatures, chemical sanitizer levels, food preparation equipment, employee hygiene, and other public health interventions to determine compliance with regulations.
COMPLAINT INSPECTION: An inspection conducted in response to a complaint received by the Health Department. The specifics of the complaint will be evaluated and discussed with the person in charge.
FOLLOW-UP INSPECTION: An inspection conducted for the specific purpose of re-inspecting items that were not in compliance at the time of the routine, risk factor assessment, or complaint inspection.
PRE-OPENING INSPECTION: A scheduled inspection conducted to approve the construction of a new or remodeled establishment (or installation of new equipment) or to evaluate an establishment prior to a change of ownership at the establishment. The pre-opening inspection process focused primarily on the physical structure of an establishment (e.g., the size, number and location of refrigerators/freezers, sinks, and food processing equipment)
FOODBORNE ILLNESS INVESTIGATION: An inspection/ a foodborne illness investigation conducted in response to a report of a possible foodborne illness. Causes of Foodborne Illness
Staff reviews menus and the flow of food from delivery through preparation and service, building physical structural plans to make sure food is safely being prepared and being held under safe conditions.
The Department annually conducts free food safety training classes in English and Spanish for food handler and managers of food establishments in Ennis.
The Department also responds food establishment emergencies during disasters, i.e. fires, floods, or power outages (storms/tornadoes),and wrecks of food transport vehicles, to ensure the proper disposal of contaminated and perishable foods.
Routine random, unannounced inspections are conducted at each food facility in Ennis to check for compliance with City Code Chapter 10 and the Texas Food Establishment Rules (25 TAC 229.161 – 229.171). Under these laws food facilities are checked for issues, i.e. food temperature controls, proper employee hand washing, safe food handling practices, food preparation techniques, food storage, facility cleanliness, insect or rodent infestations, sanitizing procedures and more. Inspections are a snapshot of how the facility is being operated in comparison to scientifically based food safety laws and are utilized as a tool to assure that the food is being handled properly from preparation through service. Once the inspection has been completed a copy of the inspection report is review with management and suggestions are provided to remedy and problems outlined.
Each violation on the inspection report has weighted point value based on the severity of the violation. Points are deducted from possible 100 points (100pts = no violations observed. Letter grades are provided at each fixed brick and mortar type food facilities and are required to be posted until the next routine inspection.
The letter grade indicates a final percentage score obtained during the food establishment inspection:
"A" indicates a final percentage score of 90% or higher. Indicating few or no violations were observed during the health inspection.
"B" indicates a score that is less than 90%, but at least 80%. Indicating minor violations were observed during the health inspection.
"C" indicates a final percentage score less than 80%, but at least 70%. Indicating serious infractions were observed during the health inspection. Generally requires follow-up inspection within 24 hours to 10 days.
Food establishments scoring below "C" typically pose an immediate threat to public health and are thereby required to close until their problems have been corrected.
If no violations are found, a score of 100 is achieved. If more than 20 points are lost, a re-inspection is required and corrections must be made to bring the score above 80, in accordance with the Texas Food Establishment Rules. If subsequent inspections score below 80, compliance actions will be taken.
Finally, the Department may take enforcement actions at food facilities when necessary to keep the food supply safe.
To report a possible food-borne illness or unsanitary condition at a restaurant or other food service establishment, or for other concerns or question contact the Health Department between 8:00 a.m. and 5:00 p.m. M - F at 972.875.6442 or you may visit us at 105 S. Preston Street, Ennis, Texas 75119. You may also report concerns or question by clicking here.
File a Restaurant or Food Complaint, please click here or file a hand written compliant here .
To view a listing of currently permitted food establishments, please click here . The Department of Health imposes the following types of enforcement actions:
Municipal Court Citations may be issued for each food code violation
Suspension of permit to operate for reasons of an imminent health hazard: The permit is suspended and a directive is given to cease and desist operations of the entire food facility to ensure the protection of public health. Generally, the food facility is allowed to reopen once the public health concern has been corrected.
Grounds for closure due to imminent public health risks may include but are not limited to:
No water
Sewage backups or overflows
Power Outage – storm, tornado or other circumstances
Fire
Pest infestation
Contaminated food
Foodborne illness outbreak investigations
Inadequate refrigeration
Flood
Lastly but not least, like of overall general health and sanitation/ practices
Revocation of permit to operate: Although this very rarely occurs a food establishment permits may be revoked due to serious or repeated violations of any of the requirements of the law. Prior to revocation of the permit, the permit holder will be afforded an opportunity to appeal the Health Department's decision.
Operators Food Safety Check List
For more food safety information, visit www.FoodSafety.gov - the gateway to food safety information provided by government agencies.